Be one of the lucky people on earth to possess all stable elements of the COSMOS in your office or in your Home.

A VERY RARE COLLECTION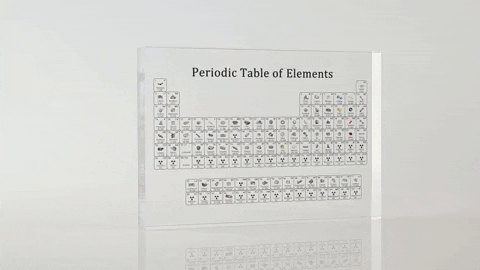 Did you know that it's been more than 150 years since the discovery of the periodic element system by Dmitri Mendeleev?
Chemistry lovers and even anyone who is interested in SCIENCE would be amazed with this acrylic-encased periodic table of elements!
This Unique Table of Elements, - or actually, piece of Art - has elements embedded inside the acrylic casing, ofcourse except the radioactive ones.
They have been carefully placed and beautifully arranged inside to showcase each element's color, shape and uniqueness.
The Periodic Table Display with Real Elements is a work of art & science that is a must-have in your home, school, Lab or office.
It's definitely a conversation starter for anyone who visits and sees this miniature periodic table.
Elements have been broken, cut, machined, melted or smashed to achieve the accurate size for the table.
Explore different elements! You never knew how they'd look like with your bare eyes.
Enjoy this beautiful mini collection of actual elements in the universe.
A great conversation piece for science fans or any curious ones who'll drop by your desk.
Display easily on your desktop, on the shelves, or wherever you feel like it's best placed in.
We all wished we had this while studying but it's never too late to enjoy this, and let our children and students enjoy it also!
Not only educational, it's a perfect piece of decoration also!
About the Product:
83 REAL elements for the Real Elements Version (no Radioactive Elements)

High Quality 3D effect printing for the printed Version

Safe, Crystal Clear and Beautiful Display

Weight: 0.500 kg
Dimensions: 150mm x 115mm x 20mm
Dimensions with Base: 180mm x 145mm x 50mm